Description
Jungle Boys
The Jungle Boys are a prolific growing collective responsible for some of the most interesting and aromatic cannabis flower strains around. If you live in Southern California, you're lucky enough to try their innovative and pungent strains, many of which smell like a freshly baked dessert. The Jungle Boys are a family and friend operated business that takes pride in producing unique cannabis strains that can't be found anywhere else
The Jungle Boys have cemented their claim in cannabis history as some of the best growers with their painstaking and proven cultivation methods including the prodigious pheno-hunting techniques they employ. Pheno-hunting is a complex growing operation that can take years to get results. The Jungle Boys plant hundreds of seeds at the same time hoping to find one with intriguing, resilient, and unique phenotypes. Their diligent work has paid off. Today, they're known for developing new and exciting strains for cannabis connoisseurs.
The History of the Jungle Boys
The Jungle Boys opened up their first brick-and-mortar shop in 2005 and gained local recognition through their innovative growing techniques. Ivan, the founder of the Jungle Boys, was influenced to grow cannabis plants by his mom who grew these plants in his childhood backyard. Her tips helped Ivan learn how to keep a low-key growth going without attracting unwanted attention.
Ivan worked elsewhere while maintaining a passion for cultivation. When his dad was diagnosed with stage IV cancer, their doctor recommended cannabis after chemotherapy wasn't working. Ivan applied for a medical recommendation and began purchasing cannabis for his dad from Toluca Lake Collective, also known as TLC, in Los Angeles.
While Ivan's dad passed away, cannabis products helped his dad find relief during his final moments. Ivan was inspired to foster his growing passion and eventually settled on building out his grow operation to sell to dispensaries all while working over 14-hour shifts. He continued to work long hours to support his family, while still making time for his cultivation efforts.
In order to scale the business, Ivan opened a dispensary called Nature's Green Cure in Santa Fe Springs, CA. Ivan found success with his WiFi #43 strain after growing more than the recommended 100-plant limit. At the time, growers feared getting locked up for 40 years for growing more than 99 plants. Ivan took the risk and found his calling in finding the perfect phenotypes. Ivan was also successful in taking over TLC in 2013 after partnering with them for many years before that.
Despite a lengthy court battle with the city of Los Angeles on compliance issues with TLC, the case was dismissed many years later, which let the Jungle Boys focus on meeting California's legal market demand. The Jungle Boys weed business employs hundreds of workers to provide both the medical and recreational market with their most popular cuts.
The Jungle Boys weed business continues to grow as they open up new facilities. Ivan has included his entire family in the business, too. His daughter manages TLC, his wife runs the new clothing line, and his nephew manages the growing operations. As they continue to battle with knock-off strains, their status as premium growers continues to rise.
Jungle Boys Strains
As mentioned previously, the Jungle Boys plant hundreds of different phenotypes in search of just the right one that smells and yields the best. While other brands are focused on bag appeal, the Jungle Boys focus on rich terpene content. Here are some of their most popular strains you might have come across.
Sundae Driver
Sundae Driver is an Indica-dominant hybrid bred from Fruity Pebbles and Grape Pie, so you can just imagine how good it smells. Consumers have noted sweet and chocolatey scents as well as purple leaves from this hybrid. Sundae Driver is said to provide a relaxing and potent body high, perfect for a lazy Sunday.
Jungle Cake
Jungle Cake is an Indica-hybrid made by crossing White Fire 43 (WiFi 43) with Wedding Cake strains. These flower buds are large, dense, and heavily frosted in trichomes. Their unmistakable OG smell of citrus and pine is all there for you to enjoy. Consumers report a burst of euphoria coupled with full-body relaxation after a few hits.
Strawberry Shortcake
Strawberry Shortcake is the first Exotikz release, which is made with White and Wookies strains. The result is a heavy Indica with a distinct strawberry aroma and flavor. Its most common terpenes include limonene, myrcene, and alpha-humulene. Consumers also noted notes of tropical fruits such as mango as well as some spicy undertones. Its high THC content is said to provide cerebral and uplifting effects that can be used during any time of day.
Mimosa
Mimosa #14 was selected as the best of the bunch and for good reason. It went on to win first place at a Chalice Cup. It's a cross between Clementine and Purple Punch strains. The strong genetics give Mimosa an orange and grape-flavored smell and taste with its relatively high beta-caryophyllene and linalool levels.
Pie Hoe
Pie Hoe is a cross between Grape Pie and Tahoe OG resulting in this Indica-dominant strain. Try this strain if you love grape-like, diesel, and spicy aromas. This strain features high levels of myrcene, beta-caryophyllene, limonene, and terpineol. A few puffs and consumers report feeling pleasantly relaxed and ready to binge-watch their favorite show.
Topanga Canyon OG
If you're an OG fan, you'll love the Topanga Canyon OG strain. It's a cross between Topanga and Sweatband strains. This Indica-dominant hybrid strain has a strong piney, citrusy, and diesel flavor that will remind you of other OG varieties.
Zacks Pie
Zacks Pie has the same genetics as Wedding Pie, Grape Pie, and Wedding Cake, and is an homage to a Jungle Boys employee that passed away. It features up to 27 percent THC and strong purple hues throughout. These dense and fox-tailed buds are grape-flavored, but also have a strong Wedding Cake smell that's sweet and slightly minty.
Exotic jungle boys strains include;
Strawberry short cake | Jungle mints | Mai Tai | Florida Jungle | White fire | Wifi cake | Gator breath | Frosted cakes | Kush Sorbet | Lemon Mints | Wifi Mints | SFV x TK | Sour Apple Killer | Hot Cakes | Cherry Cookies | Hippy Crasher | DosiKiller | TK43 | Mike Larry | Chem91VA x SFV x TK | COMA | Orange Mints | CookiesNCream | HighOctane OG | Banana Punch | LA Kush Cake | Fuji OG | Mitten Cake batter | Triangle Larry | MAC | Perfect OG | Purple Punchsicle | Sundae driver | Wedding Pie | Motor Breath | Space Center | Orange Sherb Crasher | Florida Kush | Traingle Canyon | Perfect Triangle | Zacks Pie | Mimosa
How to verify Authentic jungle boys
The easiest way to identify Fake Jungle Boys is with CannVerify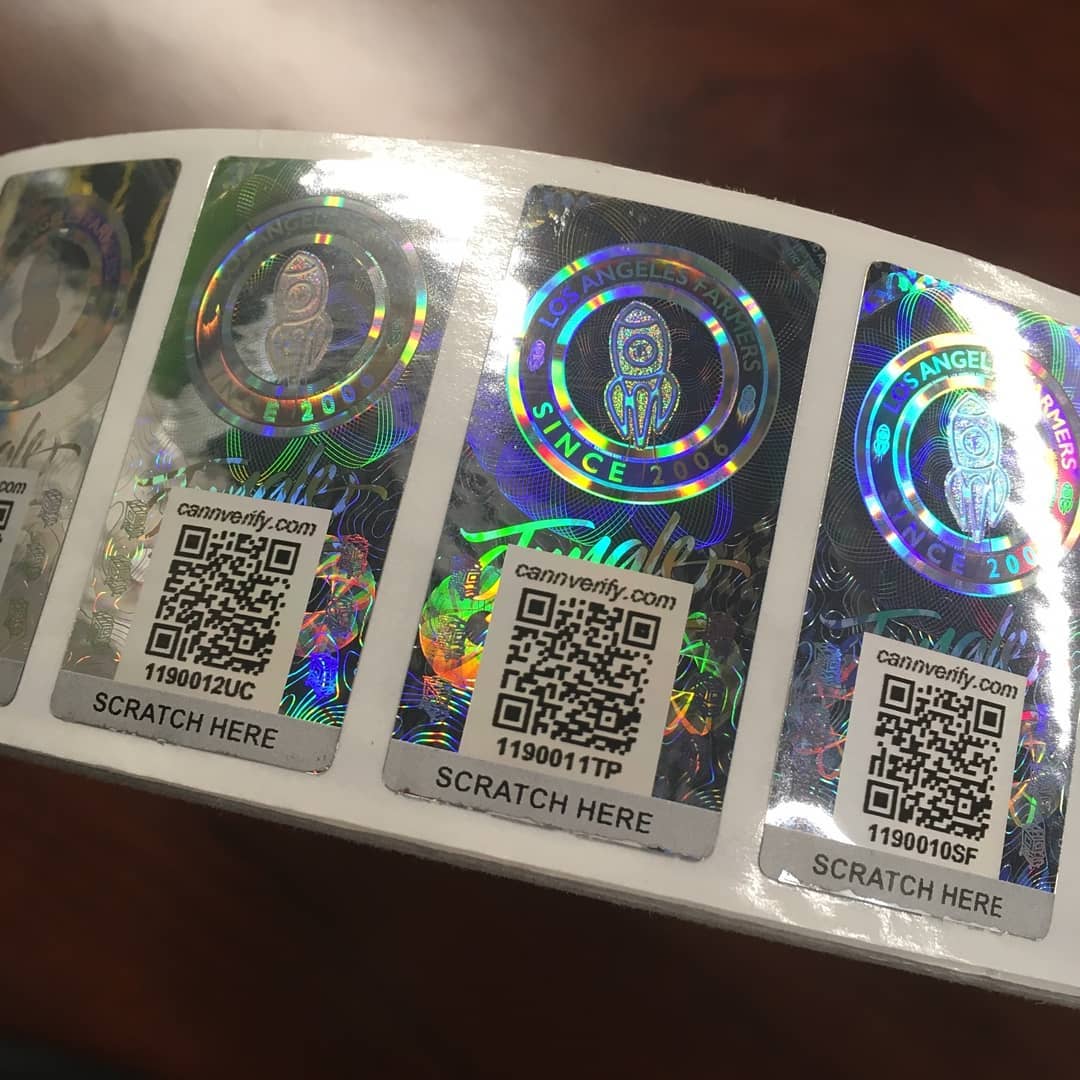 This is the simplest way to tell if your packaging is authentic or not. Recently, in April of 2019, Jungle Boys decided to put a CannVerify seal sticker on all of their products. From their flowers and joints to all of their concentrates, each product has this sticker sealed to the packaging. If your package does not contain this sticker then your product is 100% fake. With the Cannverify website or app on Google Play and Apple's App Store, you can simply scan the code or enter the serial number to verify if yours is legit.
Where to Buy Jungle Boys Weed?
You can order jungle boys weed from our dispensary buy my weed online at the best price